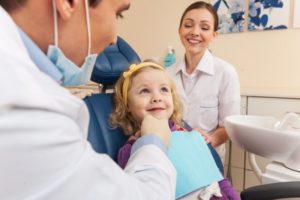 Your little one is just about to develop their first tooth, so you know it's about time to start thinking about finding a dentist in Melbourne for them. You've asked around to your friends and they've all referred you to "the best pediatric dentist in town." However, you can't imagine having to bring some of your family to one practice and you yourself visiting another.
The truth is that you don't have to! In fact, your child would benefit greatly from going to the same dental practice that you visit right along with you. Learn more about why it's best to bring the whole family to one comprehensive dental practice in this week' blog post.
Your Family Will Greatly Benefit from Visiting a Single Practice
Rather than stretching your time, money, and resources to visit multiple dental offices, you and your loved ones can benefit from visiting a single family dentist in these ways:
Making your children more comfortable visiting the dentist because their siblings, parents, and even grandparents all trust one dental team.
Your child will not awkwardly transition to an adult practice once they get older.
Improved convenience, saving time and money by visiting a single practice rather than spreading your family among different dental offices.
How Can You Choose the Best Family Practice?
Your family consists of people of all ages with all different dental needs. Just because you all are related doesn't mean that your mouths are the same.
Grandma and Grandpa may need to receive restorative care to build up their smile after years of wear and tear. While you might enjoy a cosmetic treatment to brighten your smile.  All at the same time, your little one could benefit from braces to help their smile develop correctly.
If you need to explore a wide range of dental services for your whole family, choosing a family practice is one of the best ways to help make that task easy to accomplish.
It's Time to Visit a Family Practice!
Choosing a dental practice that offers everything your whole family needs is critical to optimizing your whole family's oral health. If you would like to get to know what services are available, feel free to explore their website or even give them a quick phone call.
---
About Our Office
Here at Exceptional Dentistry, we're always excited to see new families in our office! The first visit is one of the best for us because we get to know everyone, learn each one's individual needs, and discuss the goals you all have for your smile. Learn more about how we can help your family today!