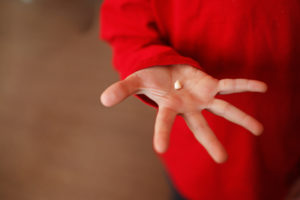 When you're watching your little one develop in the early stages of life, every milestone passed is a celebratory moment, whether it's saying the first words, taking those initial steps or losing his or her primary teeth. You want to make sure, though, that he or she is on track, developmentally. Thus, you wonder when the primary teeth should begin falling out. As you read on, your dentist in Melbourne answers that question and much more.
When Should Your Child Start Losing Teeth?
As a general rule of thumb, children start losing teeth around age six. This happens because the roots of their incisors (the middle teeth in the front) are reabsorbed back into the gums. As the teeth become loose and eventually fall out, they make way for their permanent replacements.
Although the age of six is when kids typically start to lose their teeth, some begin as early as age three or four. Thus, if this happens with your little one, you shouldn't be alarmed. To calm any of your concerns, though, be sure to visit your dentist for regular checkups.
When Should Your Child First Visit the Dentist?
When the first tooth erupts, you should start taking your child in for dental visits. Your local professional will be able to make sure that he or she has healthy gums and that the tooth is growing in correctly. Furthermore, your expert will also be on the lookout for any signs of bacteria growth and to ensure that any tooth loss is not premature.
How Often Should You Visit?
By taking your child in semi-annually for cleanings and checkups, you'll be able to avoid any early tooth decay or bacteria development. Another benefit of these appointments is that you'll be exposing your child to a healthy routine that will be beneficial for the rest of his or her life.
Watching your child change and develop should be a rewarding experience with as little stress involved as possible. By establishing a relationship between your dentist and your kiddo and keeping in mind the above information, you'll be able to fully enjoy the experience of being a parent and assurance that your child's oral health is off to a good start.
To learn more about this subject or to schedule your child for his or her first visit, reach out to your family dentist in Melbourne today!
About the Author
Dr. Beverly Rose earned her Doctor of Dental Medicine degree from the University of Florida College of Dentistry and has been providing expert care for over twenty years. Still, she strives to expand her knowledge by pursuing continuing education. Additionally, Dr. Rose maintains membership in several professional organizations, which helps her stay abreast of the latest changes in the world of dentistry. She introduces children to a life of proper oral care at Exceptional Dentistry and can be reached for more information through her website.