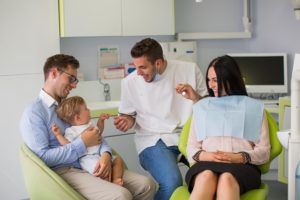 With individualized dental care throughout your life, you can help to ensure that your teeth and gums stay healthy. To make it easier to achieve optimal oral health, you need a great dentist in Melbourne by your side who offers all the services you need over the years. With complete dental care from one location, you will save time and money while benefiting from one amazing dental team. At Exceptional Dentistry, Dr. Beverly Rose is the dentist for you. She offers the services you need through all stages of life to maintain a healthy smile.

Benefit from Complete Dental Care
As a family dentist in Melbourne, Dr. Rose treats patients of all ages. Supported by extensive training and qualifications in the dental field, she combines her experience with the latest advancements in dentistry to provide you with the solutions you need for healthy teeth and gums. She offers complete care under one roof to meet your needs both today and in the future.
Preventive Care
The secret to a healthy smile starts with preventing issues from developing in the first place. To protect your teeth and gums from damage, she offers the semi-annual cleanings and checkups that you need to ward off tooth decay and gum disease. She provides many other preventive treatments as well, including dental sealants and nightguards.
Restorative Dentistry
Even with the best preventive care, complications can still develop. To quickly rehabilitate your oral health, you will enjoy an array of restorative procedures. Using the latest advancements in dentistry, Dr. Rose will not just improve the health of your teeth, but their appearance as well with tooth-colored fillings, porcelain crowns, and high-quality dentures.
Cosmetic Dentistry
In addition to the health of your teeth, their appearance is equally as important. Unfortunately, not everyone loves their smile. To restore your confidence, Dr. Rose provides many cosmetic treatments to improve how your teeth look, including teeth whitening, porcelain veneers, and gum recontouring.
Specialty Services
Dr. Rose strives to provide her patients with the latest technologies, treatments, and procedures. As a result, she offers many areas of specialty care, including CEREC crowns, dental implants, Botox, orthodontics, and TMJ therapy.
Choose Complete Dental Care
Your life is busy enough. You do not have the time to run to different dental offices for every member in your home or for specific treatments. Now, your entire family can benefit from one great dental team.
Choose the high-quality care your family deserves with Exceptional Dentistry.
About Dr. Beverly Rose
Since 1996, Dr. Beverly Rose has provided the community with exceptional dental care at her private practice. In addition to earning her dental degree, she regularly continues her education to remain well-versed in the latest dental advancements. Due to her superior qualifications and experience, she will provide your loved ones with the care they need to achieve a lifelong healthy smile. If you need a new dentist, benefit from complete dental care. Contact Exceptional Dentistry today to schedule your appointment.