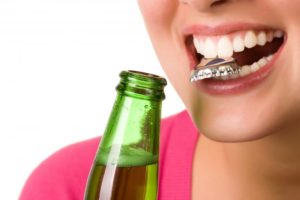 Having a bad habit is dangerous because you probably don't realize how often or when you're doing it, making it hard to correct. Taking care of your natural teeth is important because you only get one chance to do that. When you do things like smoke cigarettes, over time, these can cause severe oral health problems that can grow to wreak havoc on your entire body. Breaking these can keep you from experiencing oral pain down the road. Your dentist in Melbourne discusses the top four bad habits that could cause a dental emergency below.
Tobacco Use
Chewing, smoking, or vaping can all have detrimental impacts on your overall wellbeing. Did you also know that they can cause severe oral health problems and diseases like oral cancer? When you make the effort to quit tobacco, you won't just save your oral health, you'll also improve your quality of life. While this is no easy feat, it's best to talk to a doctor about what options are out there to help you quit.
Clenching and Grinding Your Teeth
When you fall asleep, all that pent-up stress, worry, and anxiety collected throughout the day won't just disappear. Instead, it manifests itself into bad oral habits like teeth grinding. When you gnash your teeth together, it'll wear down your enamel faster and leave your pearly whites susceptible to damage, cavities, and even infection. That's why it's important to visit your dentist in Melbourne as soon as you notice side effects like a sore jaw or headaches. They can fit you for a custom oral appliance to reduce the impact grinding has on your oral health and cushion your teeth.
Biting Things That Aren't Food
In the absence of scissors to open your package that just arrived, your teeth seem to suffice perfectly for scissors. Habits like nail-biting, crunching ice, and ripping tape off a roll using your mouth could cost you your smile. If your habits are caused by anxiety or boredom, keep a pack of sugar-free gum on you to chew on instead of your nails.
Aggressively Brushing Your Teeth
It may seem like the harder you brush, the more plaque you remove. However, the more aggressive you are during your oral hygiene routine, the more damage you can cause to your teeth. A gentle, circular motion with a soft-bristled toothbrush is enough to sufficiently clean the surface of your teeth. Brushing too hard can cause your gums to bleed and even recede.
When you visit your dentist for your routine checkups and cleanings, they'll be able to let you know what kind of damage your bad oral habits are causing your mouth. This way, you'll be informed enough to try to correct them. Even though it may be hard, it's well worth the effort so you can enjoy your natural smile for years to come.
About the Author
Dr. Beverly Rose has been practicing in the Melbourne area since 1996. She stays up-to-date with the latest advancements in dentistry by being actively involved in several professional organizations. She and her team have also undergone extensive advanced training at the prestigious Las Vegas Institute in cosmetic and neuromuscular dentistry. She also attends clinical seminars throughout the year so she can sharpen her skills and learn about the latest techniques in her field. For questions or to schedule a routine checkup and cleaning, visit Exceptional Dentistry's website or call 321-259-4666.