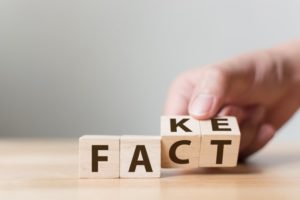 Dental myths have been around for thousands of years. Over that time, certain tall-tales have begun to present themselves as facts, which could be doing more harm for people's oral health than they think. The best way to debunk a rumor is to visit your dentist in Melbourne and ask them yourself. However, you can also read on to learn about four popular legends that could be keeping you from having a healthy and happy smile.
My Teeth Look Healthy, So They Must Be
Even the most beautiful looking smiles that are aligned and white can still have problems. Some oral health issues may not be visible to the naked eye or present noticeable symptoms until they've gotten severe. That's why it's important to visit your dentist every six months for a professional checkup. Using special advanced technology such as digital X-rays and intraoral cameras, they're able to spot and treat serious issues like impacted teeth, dental decay, and infections. So, just because your smile looks great, doesn't mean problems aren't lurking under the surface.
Teeth Whitening Can Harm Your Mouth
It's no lie that store-bought teeth whitening kits can negatively impact your oral health. However, your dentist offers professional in-office treatment that only uses ingredients and concentrated materials approved by the American Dental Association. Not only do they offer fast and lasting results, but they're also thoroughly tested and proven to be safe for your mouth.
Since I Brush and Floss At Home, I Don't Need a Professional Cleaning
Even if you're diligent about brushing twice each day and flossing daily, oral health problems can still develop. Without timely treatment, small problems like cavities can turn into more severe ones, such as infections.
There are nooks and crannies in your mouth that you aren't able to reach with a regular toothbrush. As plaque accumulates in these areas, it hardens and turns into tartar, attracting harmful oral bacteria that can cause gum disease and cavities. Only your dentist has the specially designed tools to remove tartar, which is why it's vital to visit them for a professional cleaning every six months.
It's Normal For Your Gums to Bleed When You Brush
If your gums are bleeding, it can be an early sign of a bacterial gum infection or because you're brushing too hard. Either way, both of these issues need to be addressed to avoid causing further damage to your mouth. When harmful bacteria accumulate and release toxins, they can cause your gums to swell, become discolored, inflamed, or bleed. It's important to visit your dentist to get these symptoms addressed before they get worse. If your bleeding gums are due to brushing with too much force, try getting a softer toothbrush. Gently brush in small circular motions to keep your gums from receding.
Did you believe in any of these four common dental myths? Now that they've been debunked, hopefully you'll feel confident in getting the dental treatment you need, knowing that it'll help improve your oral health. If you have any concerns, don't hesitate to speak with your dentist. They'll be more than happy to put your mind at ease!
About the Author
Dr. Beverly Rose is passionate about implementing the latest technology and treatments at Exceptional Dentistry. That's why she is an active member of countless professional organizations. She's also an alumna of the prestigious Las Vegas Institute, where she and her team of professionals have completed extensive additional training to sharpen their skills and expand their knowledge. If you have any questions or would like to schedule a routine checkup and cleaning, visit Exceptional Dentistry's website or call 321-259-4666.