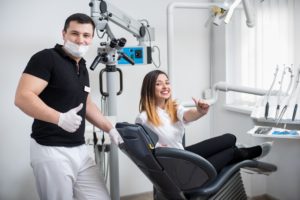 Believe it or not, 2021 is already here. As you resume your daily responsibilities after the holidays, life is about to get pretty busy, but you want to take the time to see your dentist in Melbourne for a cleaning and checkup. Although you have all year to schedule an appointment, there are 5 benefits of seeing your dentist early.
1. Your dental benefits were reinstated.
Dental insurance plans expire at the end of the calendar year; however, by continuing to pay your monthly premiums, your benefits were reinstated on January 1st. As a result, you have access to the comprehensive coverage you need to invest in a healthy smile at reduced rates. Although every plan differs, most include:
100% preventive coverage
80% minor restorative coverage
50% major restorative coverage
2. Reach your deductible early.
Your dental policy gives you an annual allowance to use toward restorative services after reaching your deductible. On average, less than 3% of Americans meet or exceed their annual limits. By seeing your dentist within the next few weeks, you'll reach your deductible soon, increasing the likeliness of maximizing your monthly investment to make the most of what you're paying into throughout the year.
3. Promote your overall wellness.
Research shows your oral health can affect your general health. You can ensure optimal wellness in 2021 by visiting your dentist for a dental checkup. They will examine your teeth and gums to look for any concerns to provide the prompt intervention you need for a healthy mouth and body.
4. Lower your oral health expenses.
Dental care focuses on prevention. Preserving the health of your smile can stop common oral health issues from occurring in the first place, like tooth decay and gum disease. It lessens the risk of needing a costly treatment in the future. Research shows every $1 spent on prevention can save you as much as $50 on restorative services to lower your overall dental expenses throughout the year.
5. Prevent dental emergencies.
As much as 16% of the population misses work each year from dental emergencies. Although you might never expect it to happen to you, 1 in 6 Americans faces a dental emergency annually. While you can't fully prevent them, you can lower your risk of one by visiting your dentist. They will monitor your oral health to ensure there aren't any untreated issues lingering in your mouth that can turn into a big problem down the road.
Achieve a Healthy Smile
Start the new year looking and feeling your best by visiting your dentist shortly after the holidays. You can advantage from a cleaning and checkup to achieve the healthy smile you deserve in 2021.
About Dr. Beverly Rose
Dr. Rose earned her dental degree from the University of Florida College of Dentistry. She remains current with the latest developments in the dental field, including advanced training at the prestigious Las Vegas Institute. If it's time for your next cleaning and checkup, contact our office today to schedule an appointment.