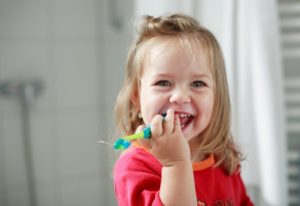 The month of February is about a whole lot more than flowers, chocolates, and love hearts. It's also Children's Dental Health Month! Now is the perfect time to make sure your son or daughter is taking good care of their growing smile. With the right dental hygiene tools, you can make brushing and flossing not only more effective, but more engaging and exciting as well. Getting your child to have fun while cleaning their teeth will set them up for a lifetime of healthy smiles. Here are some kid-friendly oral hygiene tools recommended by a family dentist in Melbourne, FL.
Yummy Toothpastes
Kids' taste buds are generally more sensitive than adults', which may make mint-flavored toothpastes a bit too much for them. That's why toothpaste for children comes in multiple fun flavors. As long as the toothpaste has the ADA Seal of Approval, consider having your child try:
Tasty toothpaste – As an alternative to mint, your little one may instead enjoy toothpaste with flavors like chocolate, vanilla, or bubblegum.
Toothpaste with sparkles – Some kids' toothpastes come with edible sparkles or fun colors make brushing their teeth more exciting.
Desensitizing toothpaste – If your son or daughter is uncomfortable brushing their teeth due to dental sensitivity, then a desensitizing toothpaste can relieve their discomfort.
Electric Toothbrushes for Kids
Did you know that electric toothbrushes aren't just for grown-ups? There are actually types of electric brushes designed for kids as young as three all the way up to 12 or older!
These brushes are smaller and lighter than the ones meant for adults so that they can comfortably fit into a child's mouth. Many options for young kids feature popular cartoon characters. Others light up or play fun sounds to help your child brush for two full minutes.
Fun Floss Options
It's no secret that many kids do not like to floss – they have that in common with many adults! Fortunately, there are plenty of ADA-approved flossing products that can get your son or daughter into the habit of flossing every day, such as:
Fun-flavored floss – Sometimes, all it takes to get a child interested in flossing is using a fun flavor like cinnamon, watermelon, or lemon.
Pre-threaded flossers – For kids with small hands, flossing can feel awkward and difficult. Pre-threaded flossers eliminate the hassle of having to wrap floss around their fingers and make it easier to clean between the back teeth.
Platypus flossers – If your child has difficulty flossing due to braces, platypus flossers can make a huge difference. These specialized products make flossing between brackets and wires much simpler.
The oral hygiene habits you teach your little one now can impact their smile's health for the rest of their life. Now is the perfect time to ask your children's dentist for personalized recommendations for products that can keep your kid's precious smile healthy while having fun!
About the Author
Dr. Beverly Rose is a family dentist in Melbourne, FL with 25 years of experience. She offers multiple services to help children's smiles grow up healthy, including fluoride treatments and dental sealants. To learn more about keeping your little one's smile healthy, visit her website or call her office at (321) 259-4666.