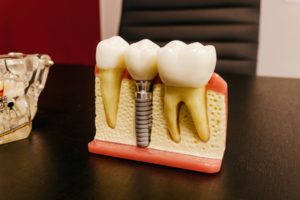 Since the 1950s, dental implants have been all the rave when treating tooth loss. They are unlike any other treatment because they replicate the entire tooth, including the root, which is why over 500,000 people choose them annually. Although you might believe they are a relatively new option for missing teeth, dental implants can be found throughout history. Thankfully, they've evolved over the years to become a reliable and effective treatment. Here's how they've changed throughout time to achieve a 95% success rate.
Dental Implants Throughout History
Historians have found evidence of tooth loss remedies dating to the ancient Mayans in 600 A.D. Their methods varied considerably to the dental implants that you might invasion today. Seashells, carved bones, and animal teeth were typically used, which were hammered into the jaw. Often, the procedures were done post-mortem; however, throughout the generations, they evolved to include those still living. Unfortunately, this was an excruciating process, which also had a significant risk of infection, so the treatments weren't successful.
It wasn't until the 1950s that an orthopedic surgeon found living bone tissue can fuse with titanium, which is bio-compatible and durable. Since the groundbreaking discovery, titanium has been the go-to material for the implant posts, paving the way for the treatment's success.
How Can Dental Implants Help Me?
Dental implants have continued to undergo improvements throughout time, allowing them to be a suitable treatment for several patients. They are customizable to meet your specific needs to rebuild a beautiful, functional smile. Depending on your severity of tooth loss, you might be a candidate for:
Single-Unit Implant: A titanium post is surgically placed into the jawbone. After the bone fuses to the post through osseointegration, an abutment is attached to it to connect your custom-made restoration.
Implant Bridge: Consecutive tooth loss can be treated without altering healthy teeth. Instead of crowns holding the bridge in place, 1-2 dental implants can anchor it to your jawbone to preserve your natural smile.
Implant Dentures: As an alternative to suction or an adhesive, 4 to 10 dental implants can stabilize your denture. You'll never need to worry about any slipping or irritation again to enjoy the next best thing to your real teeth.
Invest in Your Smile Today
Dental implants are a popular treatment for tooth loss because they closely mimic your natural smile. You'll gain unmatched support and stability while also choosing a solution that can last for decades. Unlike traditional treatments, your dental implants won't need to be replaced every few years. You'll save money down the road by investing in a long-term option.
You can't put a price tag on your confidence or quality of life. Dental implants are the ideal option to achieve the functional, attractive smile you deserve.
About Dr. Beverly Rose
Dr. Rose earned her dental degree at the University of Florida College of Dentistry. She has undergone advanced training at the Las Vegas Institute to specialize in cosmetic and neuromuscular dentistry. She can treat complex oral health issues, like tooth loss. Contact our office today to schedule your consultation for dental implants.