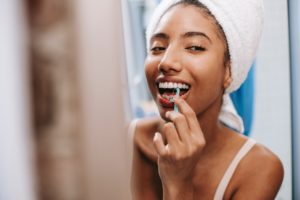 Did you know tooth decay isn't the only danger for your smile? Gum disease is equally devastating. In fact, it's the number one cause of tooth loss despite being preventable. The Centers for Disease Control and Prevention estimates at least 50% of adults have the infection. Thankfully, there are things you can do to protect your smile. If you've ever wondered why flossing is important, it's to prevent gum disease. Here are 4 reasons you shouldn't skip flossing your teeth.
Benefits of Daily Flossing
The American Dental Association recommends flossing at least once a day to remove food particles and plaque. Although your toothbrush is effective, it can't reach everywhere in your mouth. If you're not among the 16% of people who floss daily, you're leaving as much as 40% of your teeth' surfaces uncleaned. Here's why it's a good time to recommit to your oral hygiene routine:
1. Plaque Hardens Quickly
Gum disease is caused by bacteria found in plaque and tartar buildup. Many people believe it takes several weeks for plaque to turn to tartar, so if they floss occasionally their smile will be safe. This isn't true. Plaque begins to harden just a few hours after eating. Within 48 hours, the sticky substance will be firm and difficult to remove without a professional dental cleaning.
2. Your Gums Will Stop Bleeding
If brushing and flossing make your gums bleed, you might believe it's normal; however, it's the first sign of gum disease. You can stop them from bleeding and restore your oral healthy by improving your brushing and flossing habits. Don't forget to schedule an appointment with your dentist to ensure you don't need any additional treatments to resolve the infection.
3. Boost Your General Health
Your mouth is often referred to as "the gateway to the body" because your oral and general health are connected. Several dental issues can lead to medical concerns, particularly gum disease. Research shows the infection can increase your risk for several complications, including cardiovascular disease, Alzheimer's disease, diabetic complications, and respiratory problems. Keeping your gums healthy is an investment in your overall health and wellness.
4. Lower Your Dental Expenses
Dentistry focuses on prevention because it lessens the likeliness of preventable issues, like gum disease. For every $1 spent on prevention, you can save as much as $50 on restorative and emergency fees. Brushing, flossing, and routine care from your dentist can keep your teeth and gums healthy to avoid needing a costly treatment down the road.
Commit to a Healthy Smile
Although you may view flossing as a chore, it's time to make it part of your daily routine. When combining brushing with the benefits of flossing, you'll invest in a healthy smile that lasts.
About Dr. Beverly Rose
Dr. Rose earned her dental degree at the University of Florida College of Dentistry and has completed additional training at the Las Vegas Institute. She embraces the latest treatments and techniques to provide superior services for her patients. If it's time for your next cleaning and checkup, or you have signs of gum disease, contact our office today.