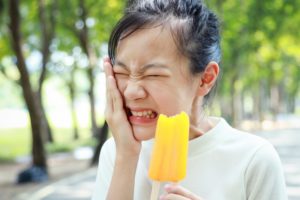 A drink of cold iced tea – ouch. A sip of hot cocoa – yikes. Is the discomfort you experience from hot and cold beverages and foods overshadowing how well they might taste? Sensitive teeth can be a real bummer.
This is a common issue, as a survey of dental offices found that approximately one in eight people suffer from tooth sensitivity. While the issue could escalate to a dental emergency, you'll be pleased to know that simply finding an effective desensitizing toothpaste could be your solution.
Keep reading to learn from your dentist in Melbourne about how desensitizing toothpaste works and key considerations when selecting the brand for you.
What Triggers Tooth Sensitivity?
Beneath your protective enamel, there is a sensitive tooth layer known as the "dentin." When this becomes exposed, you are likely to experience increased pain and sensitivity in the mouth. Most of the time, this is caused by worn tooth enamel or exposed tooth roots. Sometimes, it is a result of cavities, chipped teeth, a worn filling, or periodontal disease. It is important to see your dentist to rule out any serious issues before you look for other solutions like desensitizing toothpaste.
How Does Desensitizing Toothpaste Provide Relief?
When a tooth's nerve gets exposed via tiny tubules, it becomes sensitive to different conditions, like temperature and sweetness. These ingredients in desensitizing toothpaste work by making their way into the tubules where they can block the transmission of pain. This helps to provide lasting relief for the user, though it may take a few weeks to notice a difference.
What Do I Consider When Selecting a Toothpaste for Sensitive Teeth?
Look for the American Dental Association (ADA) Seal of Acceptance. This means that the product has been scientifically evaluated by independent experts to ensure it is safe and effective. Oftentimes, this means the product is meeting higher standards than what the law requires.
Don't spend top dollar on the toothpaste when you aren't even sure how much you will like it. Many desensitizing kinds of toothpaste are around the same price as normal ones.
Make sure that you are choosing a brand that you know and trust. You could even do some research beforehand to see which is most effective and reliable.
Check the label for active ingredients. You want to ensure that the toothpaste caters to people who have sensitive teeth.
Tooth sensitivity can be a bummer, but you don't have to live with it. See your dentist in Melbourne to rule out any serious issues, then consider the points in this blog post to choose the toothpaste best suited to bring you some relief!
About the Author
Dr. Beverly Rose earned her dental doctorate from the University of Florida and has been working hard for patients in the Melbourne area since 1996. She's an alumnus of the prestigious Las Vegas Institute, where both the doctor and her team have undergone extensive post-graduate training in a wide variety of techniques that are focused on cosmetic and neuromuscular dentistry. If you are struggling with sensitive teeth, she can check them out during an exam. If nothing troubling is found, you can feel reassuring knowing that making an informed selection of desensitizing toothpaste could be the key to enjoying hot and cold items once again. To make an appointment, visit her website or call (321) 259-4666.