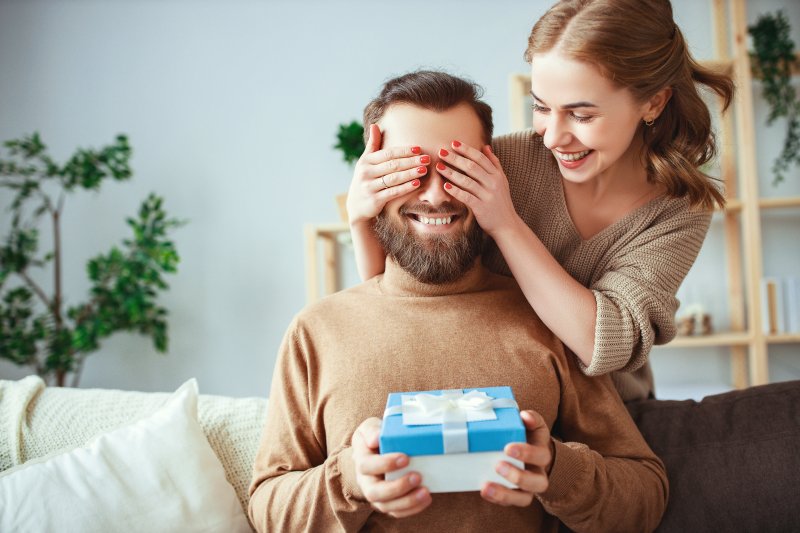 Every February 14, couples far and wide celebrate Valentine's Day by showing their love for each other. Though the exact origin of this holiday is unknown, it has evolved quite a bit over the year to become a time to celebrate romance through gifts like chocolate, flowers, and teddy bears. Though there's nothing wrong with giving these classic presents to your loved one, why not give them something outside of the box, like things that will encourage a healthy smile? To help you find the perfect present to show them how much you care, here are 4 Valentine's Day dental gifts that they're sure to love.
Gift #1: Tooth-Healthy Candy
A box of chocolates is a common Valentine's Day gift that isn't exactly the healthiest option for your partner's smile. Though cutting this part of the holiday out of the mix may be the easiest way to combat this issue, things don't feel complete without some sweets. Fortunately, there are alternatives that are better for their oral health. Instead of buying sugar-packed milk chocolate, get dark chocolate with a high cocoa content. It will contain less sugar and be easy to wash away. There are also sugar-free versions of popular treats like gummies, peanut butter cups, and hard candy.
Gift #2: Cosmetic Dentistry
If your partner has ever mentioned wanting to correct issues with their smile, consider turning prettier pearly whites into a gift with cosmetic dentistry! There is a range of treatments that can be used to correct chips, cracks, gaps, misshapen teeth, alignment issues, and discoloration. Some of the services your dentist may offer include in-office and at-home teeth whitening, porcelain veneers, gum recontouring, cosmetic bonding, and more!
Gift #3: Dental Hygiene Products
Did you know that there are all kinds of fun and quirky toothpaste and dental floss flavors? Some of the most interesting flavors are banana, licorice, pumpkin spice, cola, coffee, cupcake, waffle, chocolate, pickle, salad, ranch dressing, and even cat food! These make unique gifts for your partner and can even be paired with a new toothbrush and a Waterpik or other water flosser in a dentist-approved Valentine's Day gift basket!
Gift #4: A Dentist-Approved Dinner
Another great gift for your loved one is a homecooked meal. Put a dental health spin on a classic romantic gesture by incorporating tooth-healthy foods, like:
Low-fat and fat-free dairy products like plain yogurt, milk, and cheese
Fresh, crisp fruits and veggies like celery, apples, carrots, and pears
Lean meats like chicken, turkey, beef, and pork
Fish like sardines, salmon, and anchovies
Now that you're aware of all these great Valentine's Day dental gifts, planning out the perfect surprise for your partner will be easy as can be. They're sure to appreciate the gesture and think about you every time they flash a smile!
About the Author
Maintaining a healthy smile takes more than just brushing and flossing. With Dr. Beverly Rose and her talented Melbourne team at Exceptional Dentistry, your dreams of having a beautiful smile will soon be a reality. They offer a range of oral health services, including cosmetic dental procedures that make the perfect Valentine's Day gift you're your partner. Additionally, their office is comfortable and inviting so you feel right at home from the moment you walk through the door. To make an appointment with Exceptional Dentistry, call their office at (321) 259-4666 or visit their website.