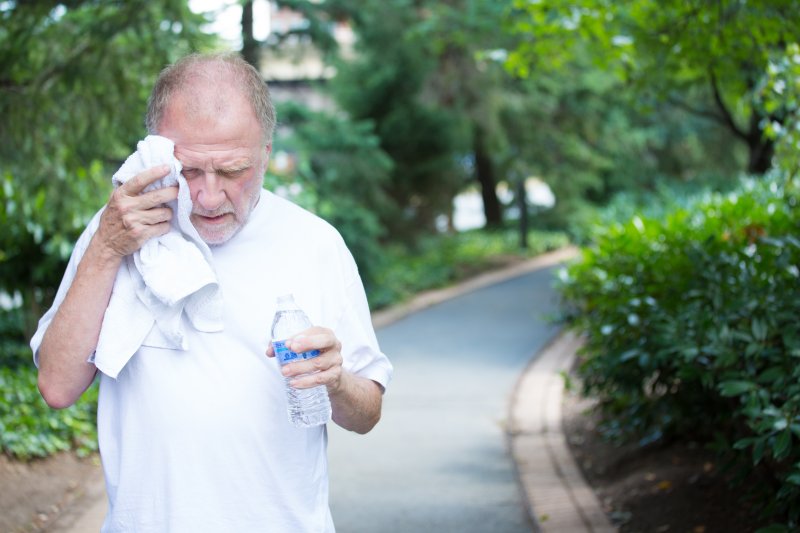 It's been a hot summer this year, and not just in Florida. Other U.S. states, Europe, and even China have seen record-high temperatures in the last couple of months. Needless to say, the heat has been causing various problems — including dehydration. That's a big deal, as fluid loss hurts your teeth besides making you thirsty. Learn more in this summary of three sneaky signs of dehydration, the condition's impact on oral health, and crucial hydration tips.
Sneaky Signs of Dehydration
Thirst and sweatiness aren't the only symptoms of being dehydrated. In fact, there are others you wouldn't associate with a loss of bodily fluids. These include the three below.
Headache(s)
Headaches are a common sign of mild to moderate dehydration and can be either tolerable or intense.
Hunger
Both thirst and hunger cues come from the brain region that also controls your body temperature. As such, your body can sometimes mistake being thirsty for feeling hungry. If you find that you feel hungry right after eating, the real culprit may be thirst.
Fatigue
Staying hydrated is part of what supports your energy throughout the day. Your body's fluids deliver key nutrients to your cells, thus keeping your organs functioning properly. Consequently, not getting enough water can make you feel like you're dragging.
How Does Dehydration Affect Oral Health?
Among the fluids lost from dehydration, one of the most essential is saliva. The latter helps wash away leftover food particles and harmful bacteria. When your body produces less of it, more debris in your mouth has a chance to ferment and spread. As such, lack of saliva increases your risk of dry mouth, bad breath, and dental diseases.
Adding insult to injury, dehydration makes your teeth weaker. After all, saliva bathes your pearly whites in calcium, phosphate, and fluoride, minerals that strengthen enamel.
Essential Hydration Tips
Given the above, you should keep your teeth strong and healthy by staying hydrated. Therefore, follow these tips in the future:
Use Thirst as Your Guide: Always drink enough to quench your thirst. Don't over-rely on the feeling, though, since it's possible to be dehydrated without feeling thirsty.
Stay Prepared: For example, make sure to hydrate the day before you do strenuous exercise. You could also keep a reusable water bottle with you.
Be Water-Conscious: Consume lots of liquids and foods with high water daily. Besides plain water, these could be teas, sports drinks with electrolytes, fruits, or vegetables.
Summers always feature more heat than other seasons, but this one is sweltering. Remember these dehydration signs and hydration tips so that your teeth stay safe!
About the Author
Dr. Beverly Rose is a dentist in Melbourne, FL, having earned her DDM from the University of Florida's College of Dentistry. She later studied with the prestigious Las Vegas Institute for her post-graduate training. Her work specializes in preventive, cosmetic, and restorative dentistry, not to mention gum disease treatment and TMJ therapy. Dr. Rose currently practices at Exceptional Dentistry and can be reached at her website or by phone at (321)-259-4666.