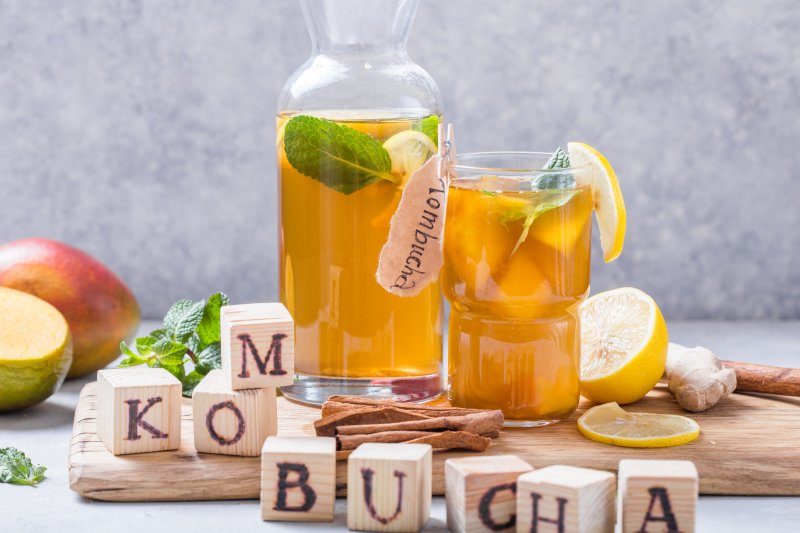 As you may know, you can't always trust what you read on the Internet. A decent chunk of what you'll find is just gossip, rumor, or plain old lies. However, were you aware that this fact even extends to popular DIY health trends? In particular, so-called miracle products that supposedly transform your body can harm your oral health. Read on to learn four popular trends that are bad for your teeth, as explained by your Melbourne dentist.
Kombucha
People are drinking more kombucha lately due to its seeming ability to improve digestion, prevent arthritis and cancer, and trigger weight loss. The problem, though, is that it hurts your pearly whites in two ways.
The first is its acidity. Kombucha's pH level is usually low enough to damage enamel. As a result, the drink weakens your teeth and makes them vulnerable to cavity-causing bacteria.
The second way is kombucha's sugar content. Store-bought brands can have as much as 10 grams per serving, and most bottles hold more than two servings. Such high amounts of sugar cause the fast growth of harmful mouth bacteria.
Sparkling Water
Sparkling water has a reputation as an elegant substitute for soda that's tasty in its own right.
Like kombucha, unfortunately, its acidity means it erodes tooth enamel. Plus, some sparkling waters add citric acid to create lemon, lime, or orange flavors. These flavored ones are more acidic, as some brands have the same pH range as sodas and sports drinks.
Apple Cider Vinegar
If you believe what you hear, apple cider vinegar can calm upset stomachs, cure hiccups, soothe sore throats, and more.
As you might expect by now, though, it's highly acidic. Its pH value is between 3.3 and 3.5, which puts it below the threshold at which enamel dissolves. Therefore, contact with it weakens your teeth and raises your risk of cavities.
Activated Charcoal
Several DIY tooth whiteners rely on activated charcoal. Supporters claim the material can absorb toxins and stains, thus making your teeth healthier and whiter.
On the other hand, the American Dental Association isn't convinced. The group believes there isn't evidence that this substance whitens teeth or is safe for your mouth.
In fact, the ADA believes activated charcoal harms your enamel. Namely, it wears away tooth layers due to being very abrasive. Some dentists equate activated charcoal to applying sandpaper to your teeth.
As you can see, online health trends are not always what they appear to be. Talk to your dentist to learn about other popular products or activities that might damage your smile.
About the Author
Dr. Beverly Rose is a dentist in Melbourne, FL. For her post-graduate training, she studied with the prestigious Las Vegas Institute. She also regularly attends seminars through the American Dental Association and the American Academy of Cosmetic Dentistry. Her work specializes in preventive, cosmetic, and restorative dental treatments. Dr. Rose currently practices at Exceptional Dentistry and can be reached at her website or by phone at (321)-259-4666.