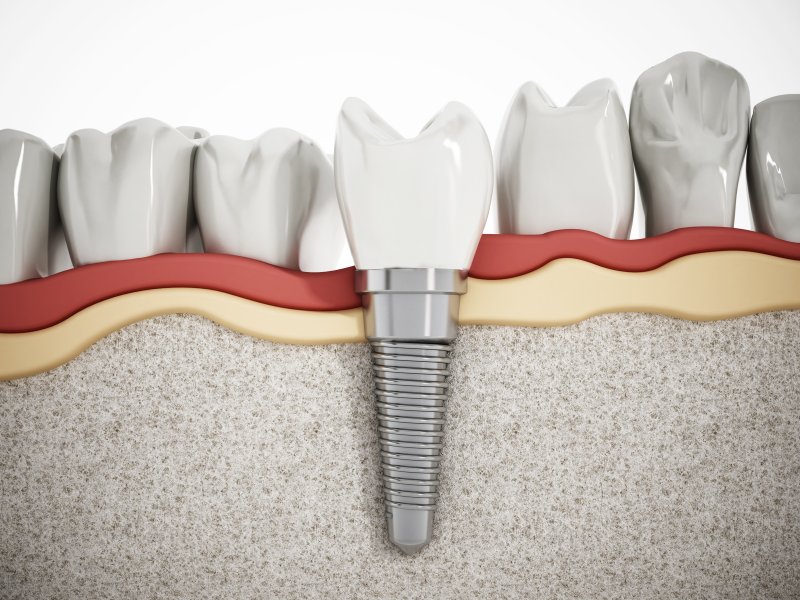 Are you struggling with missing one or several pearly whites? While traditional restorations like dentures and dental bridges are more reliable than ever before, they still won't hold a candle to the results from dental implants. These titanium posts rebuild missing teeth from the roots up, providing a strong and enduring foundation for your smile. How long will they last? Read on to learn about the lifespan of dental implants and ways to preserve them for many years to come!
What Influences the Lifespan of Dental Implants?
Traditional restorations like bridges and dentures usually go as far as 10-15 years before they need to be replaced or repaired. On the other hand, dental implants can easily last anywhere from several decades to a lifetime with proper care. Here are several factors that can affect their longevity:
Osseointegration: Titanium is biocompatible, meaning it will integrate well with bone tissue. After your implants are placed, they'll bond with your jawbone and become one with it, providing a solid foundation for your new teeth.
Unique placement: Unlike traditional restorations that rely on your gums or healthy neighboring teeth, dental implants are directly anchored to your jawbone. This level of stability will mimic natural roots, allowing you to enjoy a lifelike solution for your missing teeth.
Jawbone support: Your jawbone will begin to deteriorate whenever teeth go missing. Dental implants will help stimulate blood flow into your bone tissue, promoting a healthier and more youthful facial structure. The stronger the jawbone, the sturdier your implants will be.
How to Maintain Your Dental Implants
Most dental implants boast an incredible success rate of over 95% even after 10 years. With minimal dental care, you can expect them to last a lifetime. Of course, this heavily depends on how well you take care of them. Here are a few easy steps to keep your new smile in pristine condition:
Brushing twice a day for two minutes.
Flossing daily and rinsing with mouthwash regularly.
Avoiding poor oral habits such as smoking or biting on hard objects.
Visiting your dentist every six months for routine checkups and cleanings.
The Benefits of Dental Implants
While dental implants do come with a higher initial cost compared to traditional restorations, their benefits make it worthwhile. Not only do they rebuild your missing teeth, but you'll also feel much more confident showing off a beautiful and functional smile. You won't have to worry about them shifting out of place, and cleaning them will be as normal as taking care of your natural pearly whites. Additionally, their one-time cost can save you money, time, and headaches in the long term!
Dental implants offer a comfortable, reliable, and long-lasting solution to renew your confident smile. Speak with your dentist to determine if this restoration option is best for you.
About the Author
Dr. Beverly Rose earned her dental doctorate from the University of Florida College of Dentistry. She's also a member of several organizations like the American Dental Association and the International Association of Comprehensive Aesthetics. She provides a wide range of high-quality services, including dental implants. If you'd like to schedule a consultation, visit her website or call 321-259-4666.