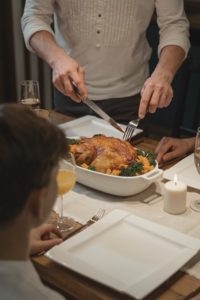 As you gather around the dinner table with friends and loved ones, you probably won't be thinking about your teeth. However, you wouldn't be able to eat your favorite holiday meals, chat with family, or feel confident when smiling for pictures if it weren't for them. As you look back over the year for a reason to be thankful, your dentist in Melbourne recommends showing your teeth a little appreciation. Here are 6 dental health tips to keep your smile healthy for Thanksgiving.
1. Keep Dental Floss Handy
It's easy for a piece of your Thanksgiving dinner to get left behind between your teeth. Nothing is more irritating or embarrassing than having food caught in your teeth. Keep a pack of dental floss in your pocket or purse, just in case.
2. Limit Sugary Treats
It can be difficult to ignore your sweet tooth during the holidays, but it's best to limit your sugar intake. If you can't resist, eat your sweets all at once with a meal to decrease how often your enamel is exposed to cavity-causing bacteria.
3. Drink Plenty of Water
Drinking plenty of water will keep you hydrated to feel your best, but it will also support a healthy smile. Water keeps your mouth moist and cleanses your teeth in between brushing and flossing to combat bad bacteria that can lead to odors, cavities, and gum disease.
4. Skip Red Wine with Dinner
Nothing goes better with turkey and cranberry sauce than red wine, but it's better to have a glass of water. Alcohol dries out your mouth, creating the ideal environment for bacteria. Not to mention, red wine is dark, which means it can stain your teeth. Water is a smart choice to keep your pearly whites bright.
5. Chew a Piece of Sugarless Gum
If you'll be snacking more frequently, your dentist will recommend brushing after every meal. If you can't get to your toothbrush, grab a piece of sugarless gum. It encourages saliva production to keep your teeth and gums clean. Not to mention, you'll have minty fresh breath as you catch up with your friends and family.
6. Eat Crunchy Veggies
Crunchy vegetables act like scrub brushes for your teeth, like celery or carrots. They are also loaded with essential nutrients to support your health. As you pile your plate with all your favorites, choose extra vegetables instead of a second helping of stuffing.
Commit to a Healthy Smile
Although life is a little busier during the holidays, don't forget to schedule your semi-annual cleaning and checkup. You'll give your smile the attention it deserves to look and feel your best for Thanksgiving.
About Dr. Beverly Rose
Dr. Rose achieved her dental degree from the University of Florida College of Dentistry and remains current on the latest treatments and technologies. She is a proud member of the American Dental Association, the American Academy of Cosmetic Dentistry, and many other professional organizations. If it's time for your next cleaning and checkup, contact our office today to request an appointment.