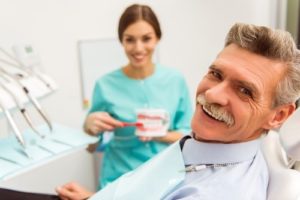 The aging process creates many changes in your body, and your smile isn't an exception. You can face certain medical conditions, like high blood pressure or diabetes, but you can also be at risk of more dental issues, like gum disease. According to the Centers for Disease Control and Prevention, 34% of adults over the age of 65 have lost 6 or more teeth from cavities and infections. Every tooth is crucial for your well-being. With your mouth the gateway to your body, here are 4 dental hygiene tips for seniors to keep tooth loss at bay. 
1. Protect Your Enamel
Your teeth are protected by the hardest substance in your body. Your enamel is the outer layer you see in the mirror that protects the softer dentin and pulp. Although it is stronger than some metals, it can erode over the years. Your teeth may appear darker as your enamel gets thinner. You may also develop tooth sensitivity and be at risk of decay.
Limiting your consumption of sugary or acidic foods and drinks can prevent enamel loss. Drink plenty of tap water, which contains fluoride. Known as "nature's cavity fighter," it can make your teeth more resistant to decay. You can also ask your dentist about adding fluoride varnish to your preventive treatment plan.
2. Don't Ignore Dry Mouth
Saliva plays a valuable role in your oral health and digestion. Certain medication conditions or medications can cause dry mouth. This creates the perfect breeding ground for harmful oral bacteria. It's important to drink plenty of water to keep your mouth moist and your body hydrated. Chewing a piece of sugarless gum can also stimulate saliva production and keep your breath fresh.
3. Commit to Flossing
Brushing alone leaves 40% of your teeth's surfaces uncleaned. Flossing is the only way to remove plaque and bacteria that lead to gum disease. It's a leading cause of tooth loss and is linked to various health concerns, like cardiovascular disease, Alzheimer's disease, and respiratory infections. Use high-quality floss to clean between each tooth daily. You can also use a waterflosser, which uses a gentle stream of water pressure to clean the most difficult-to-reach places.
4. Visit Your Dentist Regularly
Routine dental appointments are vital for preventing and detecting common oral health issues. The American Dental Association recommends a cleaning and checkup every 6 months. Your dentist will monitor your teeth and gums for quick diagnosis and treatment to preserve your natural smile.
Although you can't turn back the clock, you can safeguard your smile from age-related complications. With the right care at home and a great dentist for seniors, you can achieve a healthy smile that lasts for a lifetime.
About Dr. Beverly Rose
Dr. Rose achieved her dental degree from the University of Florida College of Dentistry and regularly undergoes continuing education in advanced services to treat patients of all ages. She creates personalized treatment plans to help each patient achieve their best smile. If it's time for your next cleaning and checkup, contact our office today to request an appointment.