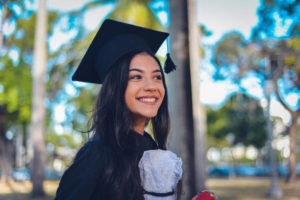 Are you searching for the perfect gift to give your graduating student? Why not give them the gift of confidence by enhancing their smile? Cosmetic dentistry is an investment in your student's confidence, professional image, and quality of life. Here's how you can ensure they look and feel their best as they take the next step toward their future.
Solutions for Every Smile
Few people are born with naturally perfect teeth. Chips, discoloration, and other imperfections can affect various aspects of a person's life. You can reward your student for all their hard work by giving them the stunning smile they deserve using a popular cosmetic solution, which can include:
Veneers can correct many imperfections at once by placing them on the teeth visible when smiling, like stains, chips, and gaps. The minimally invasive procedure offers quick and lasting results.
Metal fillings and crowns can stick out like a sore thumb. Metal-free restorations are made of natural-looking materials for seamless results. Only a trained dental professional will know they aren't natural.
Teeth come in a variety of shades naturally and change color over the years from various factors. Teeth whitening can improve surface and age-related staining by up to 8 shades. Results can last for many months or years, depending on a good aftercare routine.
Excess gum tissue can make teeth look short or stubby. Gum recontouring reveals a big beautiful smile by reshaping the gum line using a soft tissue laser for a minimally invasive treatment.
Cosmetic bonding offers a lot of bang for your buck. A resin material is used to fix minor imperfections quickly. The material is shaded to match the color of the enamel to blend in with the tooth structure.
There's a solution to fit your student's needs. After a consultation with a cosmetic dentist, they'll create the personalized treatment plan your graduate needs to enjoy a gift that keeps on giving.
The Benefits of a Beautiful Smile are Priceless
Although you shouldn't judge a book by its cover, many people form first impressions based on the appearance of someone's teeth. This can affect career potential because research has shown that attractive teeth are attributed to youth, intelligence, and confidence.
Your student put in many hours of hard work to reach their goals. Unattractive teeth shouldn't hold them back from reaching career success. Cosmetic dentistry will ensure their smile is giving the right impression while also boosting their self-esteem.
About Dr. Beverly Rose
Dr. Rose achieved her dental degree from the University of Florida College of Dentistry and has regularly continued her education to provide up-to-date services. She is a member of many professional organizations, including the American Dental Association and the American Academy of Cosmetic Dentistry. Schedule an appointment through our website or call (321) 265-3286.