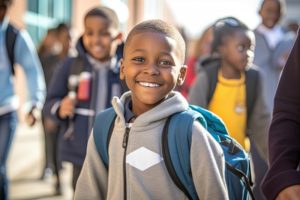 As school supplies fill the shelves at stores, you realize that the first bell is just around the corner. There's so much to do to prepare your child for a successful school year, but one thing you mustn't forget to do beforehand is schedule their dental checkup and cleaning.
How could this appointment help them academically? What impact could dental health have on your student? Read on to find out!
More Time in the Classroom
Although learning can certainly occur outside the classroom walls and outside school hours, your child's teacher has created a lesson plan to maximize the time they do spend there. If your child must miss a significant chunk of school as a result of a cavity or dental problem, they do not have the opportunity to learn.
Millions of hours of school time are lost every year because of dental emergencies and treatment. This is valuable time that could have been spent with their teacher or tutor learning concepts they'll need to succeed academically and beyond.
Easier Focus with No Tooth Pain
Have you ever had a bad toothache? It's hard enough to function at all with that level of pain, but now imagine trying to learn something new! Needless to say, you'd find it hard to focus, but that's exactly what your child may face if their teeth are not properly cared for.
If dental distractions are interfering with your child's ability to pay attention in class, they won't learn as much as they could otherwise.
Stronger Self-Confidence
In school, students need as much confidence as they can get. A child's social interactions with peers can influence their grades for better or worse. Feeling self-conscious about their smile doesn't have to stand in their way for academic success. When your child leaves the dentist's office with a thumbs up, they can walk a little taller and with more confidence in themselves, knowing that their smile is healthy, strong, and brilliant.
Friendlier, Happier Students
Along with more self-confidence, having a healthy mouth may entice your child to smile more often, which has shown to boost mental health. In other words, genuine smiling can help your child feel happier! Plus, when they smile, they can lift other students' spirits, making the school environment a more positive place to be.
While stocking up on pencils and notebooks is important, don't neglect to give your child a real chance to succeed this year. Take care of their dental checkup and cleaning appointment, so they can start the year out with a smile.
About the Author
At Exceptional Dentistry, Dr. Beverly Rose makes top-tier dental care accessible for patients of all ages. Since graduating with her dental degree, she has continued to advance in her skills and acumen through training courses with the Las Vegas Institute as well as cosmetic organizations such as the International Association of Comprehensive Aesthetics and the American Academy of Cosmetic Dentistry. To schedule an appointment for your child, you can call the Melbourne office at 321-259-4666 or visit Dr. Rose's website here.